Part of Manchester Harp Festival 2024.
Harpist Keziah Thomas takes families on a journey through this beautiful winter tale.
Come along and help shy Snowbear find a way to tell his story! See his melodies dance colours through the Air. If stories were sounds and had colour, what sounds and colours would your stories reveal? 
Suitable for ages 3-5 

ABOUT KEZIAH THOMAS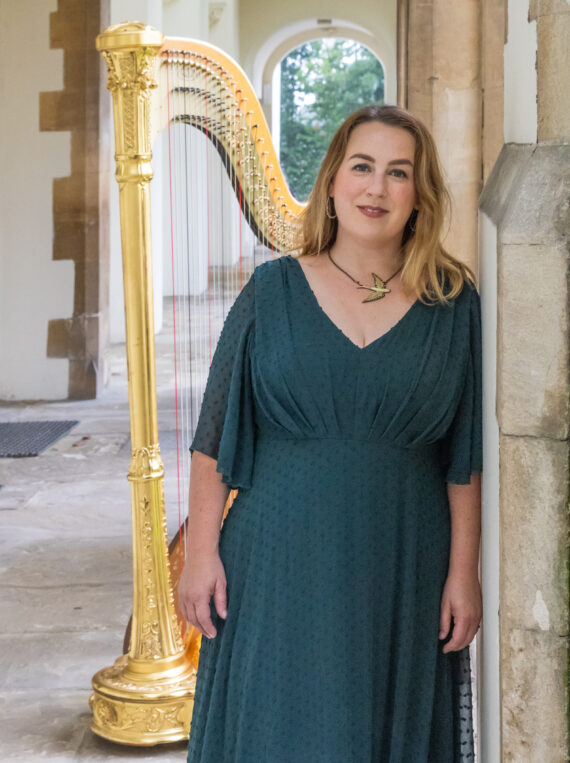 Acclaimed by the New York Concert Review as 'Stupendous…totally original and engaging', at her Carnegie Hall debut recital, British harpist Keziah Thomas enjoys a reputation of a lively and engaging performer and educator. At the heart of her work is the belief that the power of music is for everyone, a value which drives a diverse freelance career.
Keziah's creative programming strives to expand the repertoire and platform for the harp, and she is as equally comfortable performing at major venues and festivals throughout the world such as touring Japan for Aoyama Harps and giving recitals for Astral Artists in the USA as producing educational concerts for babies and playing in healthcare settings as a Breathe resident musician.
In recent years, Keziah has developed a particular interest in arranging which had led to the creation of the first solo transcription of Vivaldi's Four Seasons, the album of which was released on Convivium Records in 2022 to critical acclaim.
Her previous album Crossing Waves included newly commissioned works by British composers, James Young, Huw Watkins, and Andy Scott and was hailed as an 'imaginatively programmed, winningly played recital' by the BBC Music Magazine.
Keziah is principal harp with the Covent Garden Sinfonia and her work as a chamber musician with the Aoyama Trio and 4 Girls 4 Harps has been described as having 'Scrupulous attention to the harp's dynamic and rhythmic possibilities' by The Times.
The winner of the London Harp Competition, the Camac Harp Competition and the Contemporary Record Society Performing Artists Competition, Keziah Thomas was taught by Danielle Perrett, Daphne Boden and Alison Nicholls and holds an ARCM diploma and bachelor's degree from the Royal College of Music and a PG Certificate in Performance Teaching in Higher Education from the Guildhall School.
Keziah is a creative educator and entrepreneur and is the founder of two popular harp programmes; Retreat to the Harp, a series of workshops and study weekends that bring together those who share her love of the harp and Little Harp Social, the group learning programme for adults. Keziah is Professor of harp at the Yehudi Menuhin School and Guildhall School.