"A compelling and innovative sound" Arts Culture Magazine
"Exciting and exceptional… also deeply intuitive poetic and rewarding" Folk Radio UK
"Max and Dan produce a colourful kaleidoscope" Folk London Mag
Brooklyn's celebrated hammered dulcimer player Max ZT (House of Waters), and Black Country/Tokyo's dark, sophisticated gem – singer/songwriter/poet Dan Whitehouse – bring interwoven spoken word with music and song, drawing on a shared belief in the healing power of music, and from multi-cultural roots and the magic of the present moment.  
On their second live tour together. the two stand-out musicians feed off each other's unique creativity to present a stunning debut collaborative album, 'Ten Steps' – recorded partly remotely between New York City and Tokyo and completed with improvisations captured at their live gigs in 2021. They also bring pieces from their most recent solo projects: Dan with 'Reflections On The Glass Age' and Max with 'Daybreak'.
Opening the night is Sean Morrison, bringing a stunning solo set with an eclectic mix of classical and traditional violin.
Sean has played at Wye Valley Chamber Music Festival, BBC Proms, Shambala and Moseley Folk Festival. He performs with Juniper, Thorpe & Morrison and Joe Broughton's Conservatoire Folk Ensemble and is also currently working on an exciting electronic/folk fusion project with electronic musician Mafu. As a founding member of the Saorsa and Nabi Quartets he has performed at venues around the country, including a number of world premieres. He was also selected as a participant in the inaugural DSQ Academy, an academy run by the Grammy-nominated Danish String Quartet in the beautiful Danish countryside. Sean has also performed as a soloist with Leamington Sinfonia, Ayr Strings and South Ayrshire Chamber Orchestra.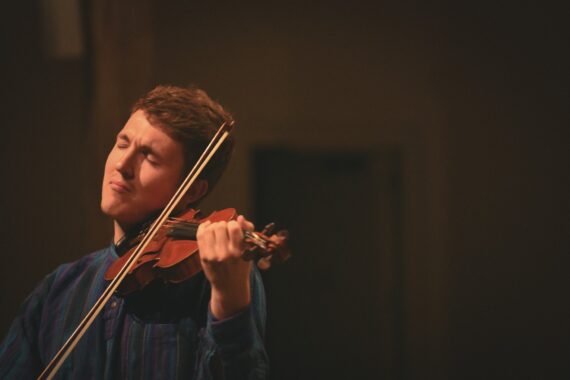 _
The Stoller Hall welcomes all audience members, including those who may need additional support with their booking or visit. We have set up an access scheme for our audiences with any additional needs, including free Personal Assistant tickets or wheelchair space bookings. You can find more information here.